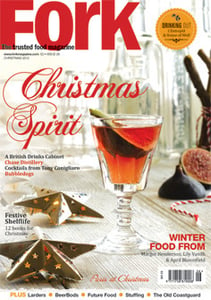 £

3.00
We love Christmas here in the Fork office- the food, the parties, the holidays and most importantly the drinks. So this Christmas we're bringing you a drinks special.
Essentials
Round Up - Forky reasons to be cheerful with our favourite new products this month include Snackinghams little spiced salamis from Serious Pig, Jimmy's Iced Gingerbread Coffee & Tio Pepe Extra Dry Sherry, a favourite here at Fork HQ.
Bites - Bite size snippets from the world of food, including gin on a bike & our favourite new book, The Art of the Restaurateur, and we pick four of the best food blogs for this issue's Blogroll.
Reviews
We visit L'Entrepot, a new wine shop, bar and café in Dalston and tuck into hot dogs and grower champagne at Bubbledogs.
Features
We have Christmas all wrapped up, find out what's under Fork's Christmas tree this year. Cult cocktails with Tony Conigliaro - recipes for Somerset Egg Nog and Sicilian Sour. We visit House of Wolf, a three-storey playground with an apothecary bar and pop up dining.
Regulars
Producer Profile catches up with the Chase Distillery, who produce the world's best vodka from family-run farm in Herefordshire. Fork Talk is with Matt from BeerBods and Shelf Life features twelve great cookbooks that will make perfect presents. Clare Hargreaves on why we should bring back the larder and we spend a Day in the Life with master distiller Jared Brown.
Recipes
We have boozy recipes with Lily Vanilli's Margarita Drizzle, a cake with a kick, and Hot Toddy Tarts that will defiantly warm a winter night. Pierre Koffman dishes out a l revamp to the French classic, Soufflé Aux Pistaches and we have a game recipe from the Henderson housefhold.